Community Impact Foundation
COMMUNITY IMPACT FOUNDATION SPRING 2021
First National Bank Community Impact Foundation presented three area non-profits each with $2,850 as part of the Spring 2021 distribution.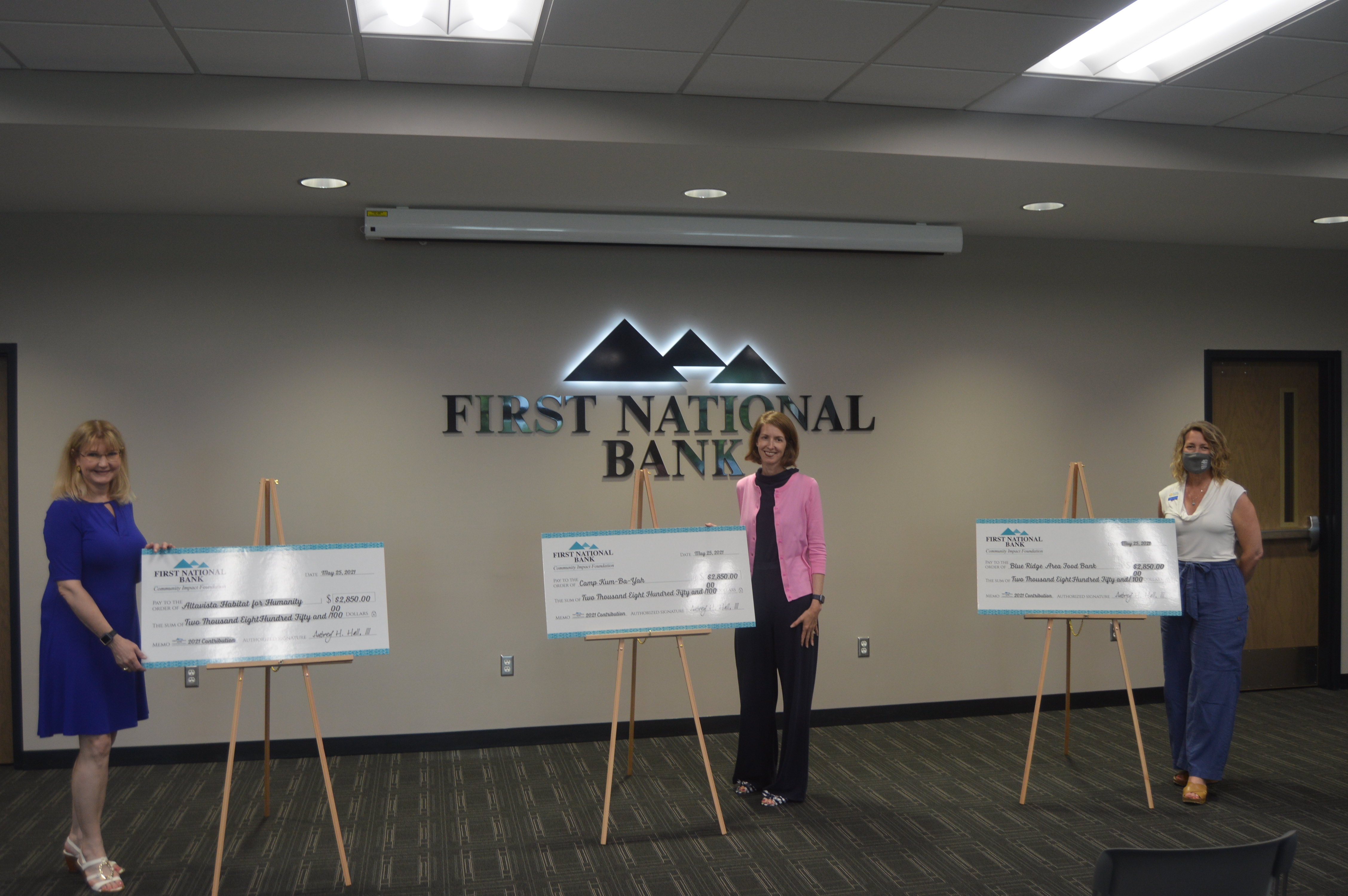 From left to right:
Altavista Area Habitat for Humanity provides affordable housing for families in need of a home. More affordable housing means more people with a safe, secure place to rest. Like food, shelter is an essential human need, and the Community Impact Foundation is pleased to assist Altavista Area Habitat with executing their mission and providing for those in need.
Camp Kum-Ba-Yah, located in Boonsboro, offers outdoor enrichment activities for any age group. Celebrating 71 years of service in 2021, Camp Kum-Ba-Yah has been at the fore of social justice since its inception in 1950. Working to bring people of diverse backgrounds and experiences together, especially young people, the Camp continues to set an example for outdoor leadership and youth outreach programming.
Blue Ridge Area Food Bank's Lynchburg branch serves thousands of meals each month, alleviating the impact of hunger and food insecurity. Food is an essential human need; when a person is hungry or anxious about where their next meal will come from, they are not equipped to do and be their best. Thank you to the Blue Ridge Area Food Bank, for your continuing efforts to lessen the impact of hunger and food insecurity in our region.
Community Impact Foundation makes second distribution despite social distancing
March 2020
First National Bank's Community Impact Foundation donated its second round of funds in late March to three local non-profit organizations supporting our service area. The Jubilee Family Development Center, Miriam's House, and the Claire Parker Foundation were the three recipients chosen by the employee-led steering committee of the Community Impact Foundation. Due to social distancing measures, the Community Impact Foundation was not able to hold an in-person ceremony for the distribution. We are pleased to support the efforts of these organizations, to cultivate talent and character in people of all ages, to provide a stable place to live for those facing homelessness, and to offer care and comfort for families facing the fight of childhood cancer.


Community Impact Foundation celebrates first distribution with area non-profits
November 2019
First National Bank employees joined their co-workers on the Community Impact Foundation steering committee on Wednesday, November 13th for the first distribution presentation in the endowment's history. Representatives from Altavista YMCA, Lynchburg Daily Bread, Lynchburg Meals on Wheels, and Patrick Henry Family Services joined us on November 13
th